5 life lessons from Insecure Season 5
Source: Okayplayer
If this ain't some real shit. Season 5 starts off with all facts! As a black woman trying to live this thing here called life we go through so many trials of BS, emotions, doubts, and laughs. It's just a lot, right ladies? I feel like once I hit 30, life started to look so different. Friends were coming and going, goals were changing, and my body was changing.
1. Lead with love if you want your friend back.
If you miss your best friend just say that, and then let your guard down. To get a real friend back you're going to have to allow yourself to be vulnerable. Yes, we know you area gangsta... but, this is the moment you both need to chill out and listen.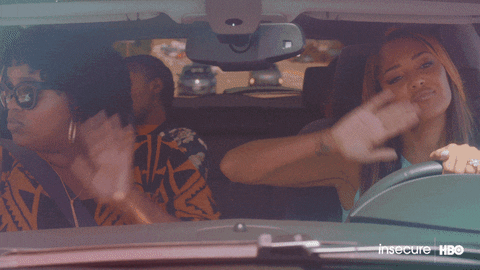 2. You will not always know what you're doing.
Starting a new business in the beginning seems so fun and cute. However, once you are in it promoting and networking sometimes you can feel like you're in over your head and that's ok. Just know this business is a forever journey. The key is to not give up because you see the end. Keep putting in the work. Keep creating with feels good to you and as you move forward you will know exactly what to do.
3. Leave a legacy
If you died today who would you be , the girl with a mean stanky leg? (spoiler alert) Kelly is that girl. She found out really quick that she was not memorable and hadn't made real impact even after all that she has done. She arrived at the here 10 year reunion only to realize that they thought she was dead! My mouth dropped. Because since season 1, Kelly has been a whole ass vibe. I was also low key pissed. What made me smile in the end was that she fought back. She began to execute on ideas and started a podcast. I love to see it, sis!
4. Some old friend, need to stay old friends
I knew ol' girl was a problem when we first met her. First of all, she didn't even pay to come to her own college reunion. Which for me means she's down bad and up to no good. And she was! Plotting on my girls the whole damn time. And to think they started off a so excited for her because she was a dancer in certain music videos but see, those be the ones you need to stay away from.
5. It's okay to press the restart button
This counts for relationships, careers, projects, etc. I think this is necessary because in some situation and relationships there's so much growth whether good or bad. Sometimes in the mist of this growth you realize, this ain't it or lets roll with it. The older you get the more you think about who and what is pouring into your cup or who and what is stealing from your cup. So, you need to hit reset on em' and move on.
If you guys haven't already please go an check the new episode of Insecure out. I mean you know Issa Rae and her team will not disappoint,
credit: HBO
SN: I usually make the last pic smaller but , Issa Rae is standing in all her glow! And I am forever here for it!